Participating Artists & Guests
Gene Epstein
Gene Epstein currently works as an artist, book artist, bookbinder, exhibit designer, muralist and jazz bassist. Ms. Epstein has an MFA in Painting and a BA in Studio Art. She is a former college art teacher, former museum Exhibits Department director, and former museum educator. Her folded book sculptures were featured in the 2011 book Book Art, Iconic Sculptures and Installations made from Books, published in Great Britain. Her work has been shown in the Loganberry Books Annex Gallery, the Heights Arts Gallery, the Morgan Conservatory, the San Diego Book Arts National Juried Exhibition, and the Minnesota Center for Book Arts.
Ms Epstein co-led a training session for Cleveland Public Library librarians in 2011, and has lectured about the book arts at the Cleveland Public Library Main Branch, for the Northern Ohio Bibliophilic Society and taught altered book techniques at Heights Arts and for Red Hatted Women. Her work is owned by book lovers in such far flung places as Helsinki, Finland; Kagoshima City, Japan; Shanghai, China; New York City; Seattle, Washington; as well as places much closer to home.

Jamye Jamison
Jayme Jamison is an Associate Paper Conservator for the Intermuseum Conservation Association. She holds a Masters in Library and Information Science and Certificate in Book and Paper Conservation, Preservation and Conservation Studies Program, University of Texas at Austin and is a Professional Associate at the American Institute for Conservation.
Melissa O'Grady
Melissa O'Grady of Art Books Cleveland is an accomplished bookmaker, comic book artist, toymaker, fiber artist, and librarian who has created pop-up books, wooden books, and is skilled in various binding styles.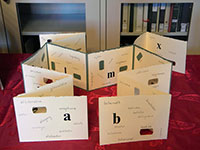 Laura Martin
Laura Martin is a retired academic who is one of the founders of Octavofest and an early member of Art Books Cleveland. She exhibits and teaches as a book artist and papercutter. She has been a docent at the Cleveland Museum of Art since 2007. She also serves CMA as Healthcare Education Consultant, working with the Vital Signs program, an initiative that uses the museum's art collections as laboratories for enhancing the observation, communication, and teamwork skills of health professionals.
Ellen Strong
Bookbinding can itself be something of a mystery, as each book has its reason for falling apart and its own best way to be repaired. Ellen Strong loves a good mystery!
Strong's book career started in New York as a bookseller at Barnes and Noble. Back in Cleveland she worked at the legendary Publix Book Mart before opening her own shop, Coventry Books, in 1972. Dealing with both new and used books, Strong became fascinated by the technology of book construction and curious about the techniques of book repair. While still a bookseller, she first studied with retired bookbinder, Walter Flick and later with a master bookbinder Jean Gunner for 5 years at Carnegie Mellon in Pittsburgh.
Ellen Strong is a life-long Cleveland Heights resident has been repairing broken and tattered books more than 30 years for individuals, libraries, and institutions. For a dozen years she was a book conservator at Kelvin Smith Library at Case Western Reserve University.
She teaches bookbinding at Strong Bindery. Classes include: Beginning Bookbinding, Intermediate Bookbinding, and Advanced Bookbinding; Paper Marbling; Box Making, Leather Binding, Box Making, and various other aspects of binding.
In 2005, after a 20 year run at the Murray Hill School, her business, Strong Bindery, moved to Loganberry Books, 13015 Larchmere Blvd. where it presently resides. Do stop in or email her at strongbind@hotmail.com.